The world doesn't yet realize it, but the forces coming down on the gold and silver markets are truly unbelievable.  These forces can't be comprehended by any type of charting.
Presently, much of the focus in the gold and silver community is in the MANIPULATION & FINANCIAL SYSTEM.  However the physical forces coming down on the market are MUCH GREATER!!
NO ONE HAS A CLUE HOW TO PRICE GOLD AND SILVER IN A PEAK ENERGY ENVIRONMENT….ZIP…NADA….ZILCH!
According to the 2012 World Silver Survey, primary silver production declined compared to 2010: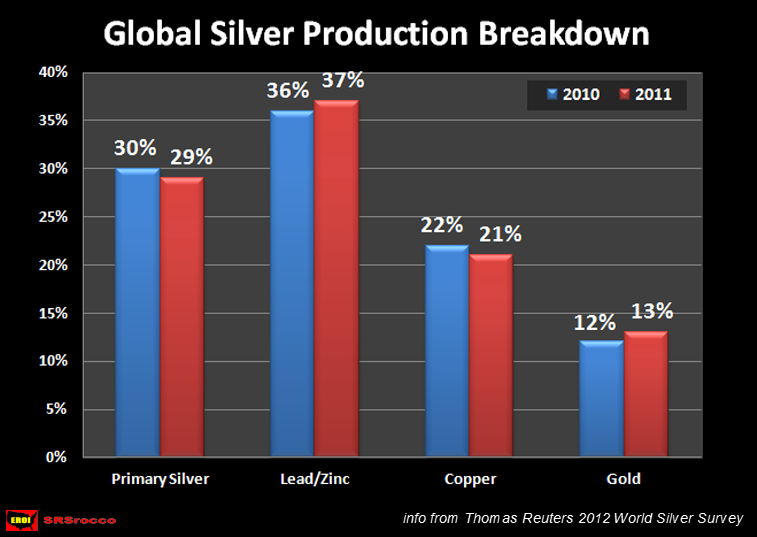 Here we can see that primary silver production fell from 30% in 2010 to only 29% in 2011…this was due to a few big primary silver mines ore grades fallen substantially.  According to the 2012 World Silver Survey:
Another significant factor pushing up costs upwards in 2011 was the lower grade of ore processed.  Among the larger mines, grades fell significantly at Arcata (-29%), Alamo Dorado (-29%), Fresnillo (-16%) and Pallancata (-13%)
These FOUR mines belong to Hochschild Mining in Peru, Pan American Silver and Fresnillo.  I have taken their data from their annual reports to show how much this primary silver decline has come from just these 4 mines:
And here is Fresnillo shown in a 7 year chart:
This turns out to be an average 5% annual decline of silver ore grades at Fresnillo.  Furthermore, in the first half of 2012, silver production at Fresnillo has done the following:
Fresnillo 1H 2011 = 16.9 million oz
Fresnillo 1H 2012 = 13.7 million oz
This is a staggering 21% decline in silver production in just 1 year.  Again, this is just from Fresnillo Plc's Fresnillo mine and not its new Saucito mine.  This would probably put Frenillo's overall ore grade in 2012 to somewhere between 8-9 oz per tonne.
FOLKS… no one in the mining community is really paying attention to this stuff.  Let me tell you, these physical forces coming down on the future silver supply are really going to make the price of silver head up to levels no one can imagine.
The analysts think we are going to see much higher silver production in the next 10 years…. I believe we will peak here very shortly.  As I stated in my previous post, silver ore grades are falling faster than the top gold miners.
THIS HAS NOTHING TO DO WITH THE SUPPOSED NOTION THAT SILVER MINERS ARE MINING DIFFERENT ORE GRADES FOR PROFITABILITY….that is complete rubbish when we look at the facts.
I am currently working on another article to prove my position in this matter.  For miners to change mining ore grades for profitability…. they must mine HIGH ORE GRADES when the price of silver is low, and mine LOW ORE GRADES when the price of silver is high.  I can assure you all, this is not taking place.
Lastly, 71% of silver came as a by-product of base metal and gold mining in 2011.  If we are going to rely on future base metal production for the lions share of silver production… we are in a world of hurt.  If you think gold and silver ore grades are falling…. base metal mines are falling just as well.
I just can't tell you enough just how much these PHYSICAL FORCES coming down on the market are going to make the price of gold and silver today look really silly compared to the prices or values in the future
 BY THE WAY….DID ANYONE READ THIS FROM JIM WILLIE'S NEWEST ARTICLE:
The Jackass forecast is that from the global mine output factor alone, the physical precious metal prices will rise, while the mining stock share prices will fall. Output risk joins jurisdiction risk and dilution risk for the mining companies. For every mining stock winner, expect 20 to 30 losers.